As we wake up it is very fresh in the motorhome and not much light falls through the ceiling windows. That doesn't look good! We push the blinds of the windows to the side and see that it is cloudy and grey outside. Looks like the perfect sofa and TV weather! On the other hand we want to visit the city and it isn't so disadvantageous if it isn't too hot. Besides, we don't have a sofa and we don't have a TV with us.
We have the obligatory morning coffee and skip breakfast again. This time we also take the bus, which leaves not far from the pitch, into the city centre to the main station. There we pick up some pretzels and sandwiches for the walk and continue towards Porta Nigra ("The Black Gate").
It was built by the Romans in the second century AD and was part of the 6km long city wall. The sandstone was coloured black by microorganisms, which is where its current name comes from. For another 4€ we are allowed to visit all three floors. From the top floor one also has a great view of the city. If you visit Trier you can't avoid the Porta Nigra. As with the amphitheatre, an orientation map with sufficient information is available free of charge at the entrance.
Directly next door is the Simeonstift, whose namesake one has to thank for the fact that the building is still standing today. Simeon was a pilgrim who was walled into the Porta Nigra and then died there. It was canonized by archbishop Poppo, and the Porta Nigra became part of a church, stopping its further deterioration and dismantling. Its use as a church is still clearly visible today, for example in the altar rooms.
We take a look into the courtyard and look in the net where the new Karl Marx statue, which Trier only recently received from China, should stand. She is not far from the Simeonstift, so we also pay a quick visit. The statue is occupied by tourists, but we somehow manage to shoot a picture without dozens of posing people.
Next we visit the Trier Cathedral, which merges with the neighbouring Liebfrauenkirche. The cathedral doesn't look like much inside and churches are not my cup of tea either. In the basement, however, there is an altar room that is decorated and ornamented very differently than usually. Snakes wrap around the pillars of the room and there are painted figures on the ceiling that could have come from a cartoon. There are pendulums all over the place. We feel as if we are in a room of a secret society. However, so far we have been unable to find out anything about the meaning of all of this.
Then there is a chapel with a skirt ("sacred skirt") in which a rag of Jesus' dexterity is said to have been sewn in. Why did they do that? We don't know. Nor can we be convinced of the truth of this statement - also because one is apparently not allowed to enter the chapel as a normal mortal. As usual in the church, believing is everything. We also visit the pretty inner courtyard of the cathedral, as well as the not so pretty and not very impressive Liebfrauenkirche.
Very close by there is a mini spring festival which we stroll over afterwards. It's got like five rides and a few food stalls. Somewhere not far away would have to be Karl Marx' birthplace, but we only find it after some searching. Which is partly because it looks so inconspicuous. The view from the outside is enough for us this time and we continue directly in the direction of the Roman bridge. Over the centuries it has often been changed, rebuilt or even destroyed. As a result, there is not much left to see of its original appearance. In addition, a busy road leads over the bridge, which does not contribute to a positive impression. We take a few more photos and then we pass the Barbara baths by accident.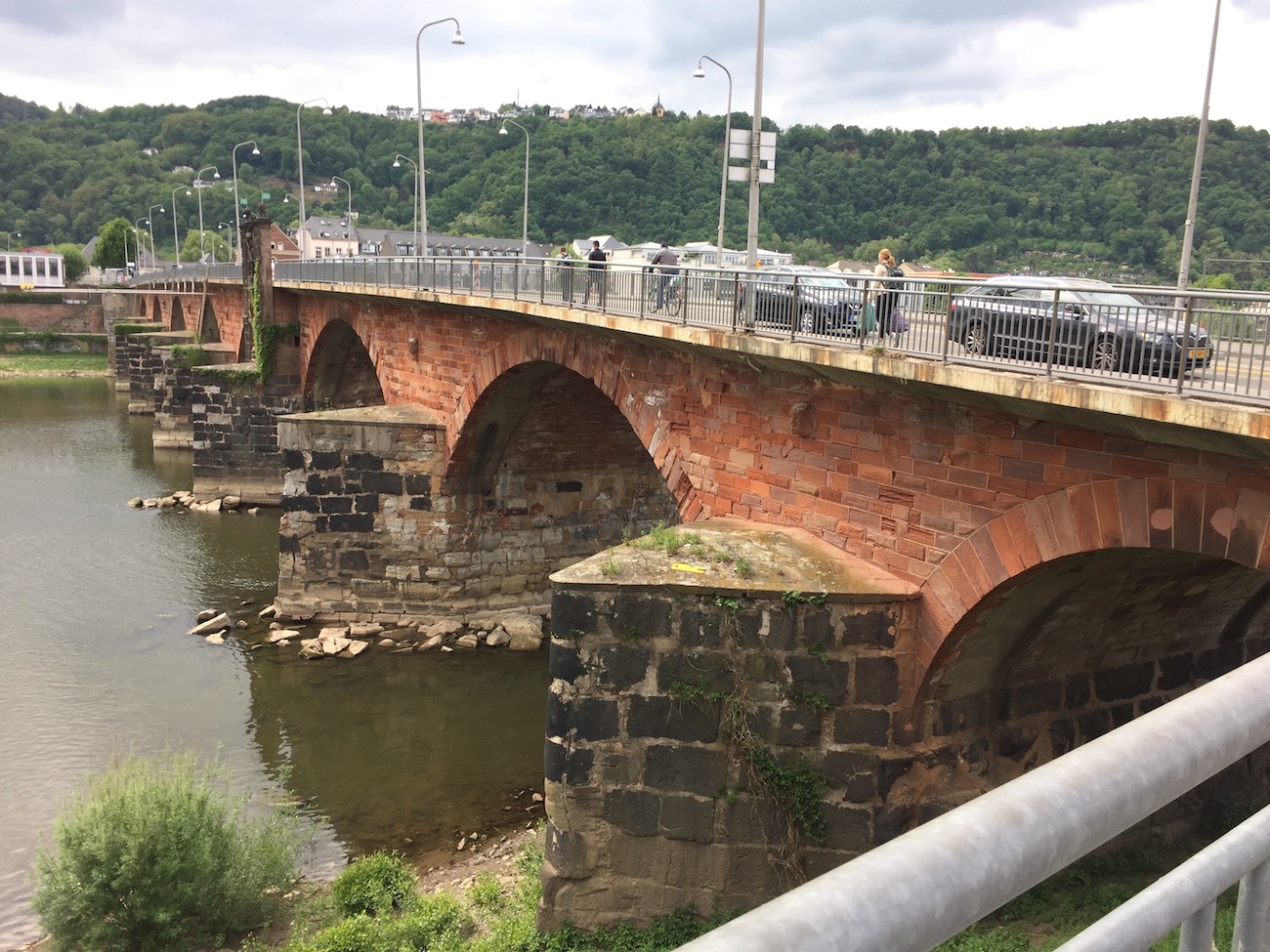 Only a few remains of the walls are left of the thermal baths, a bridge leads over the entire complex. It costs no entrance fee and so we as Swabians can't walk past it. On the bridge there are various panels with descriptions of the various areas. This is quite interesting and we spend almost an hour on this bridge. Even if you only see the remains of the wall, you get a good picture of the sheer size of the plant. It was known that the Romans often used underfloor heating, but I didn't know that they also had heated walls. There were also pools with different water temperatures. The bathrooms must have been pure luxury back then. I would really like to travel to ancient Rome and see such a thermal spa in reality.
Only about one kilometre further we pass the imperial baths. These would cost again 4€ entrance fee, but we can look from the street into the spa area. As was to be expected, there are also only a few remains of walls. We save ourselves the entrance fee and instead take a little stroll past the state museum.
It is already almost 6 o'clock in the evening and we haven't eaten much today. So the hunger forces us back to the winery, where we want to try the restaurant. There are a lot of people, but we can still get a seat. I order a burger with fries, Claudi chooses quiche and soup as an appetizer. We also taste some wines and sparkling wine, after all we are at a winery. There would also be enough space in the motorhome for several boxes, if we wanted to take some with us. Unfortunately we have to wait a long time for dinner, probably because so much is going on. After over an hour, I get a burger put down! Finally! I just want to have a bite when suddenly my plate is pulled out from under my nose! It was the wrong burger, this one was meant for my seat neighbor. What a bummer! Now my mood is gone and I am hangry. Even the good wine won't help.
Quick as the wind I snatch the burger from the waiter again and bite into it to create a fait accompli. Unfortunately, only in my thoughts. After another seemingly eternity our food finally arrives. This time I get to keep my burger and it tastes really good. The fries are interesting, they seem to be made of potato pancake. At least that's how they taste and the consistency is also matching.
Nevertheless, my mood only improves slowly and we decide to leave for the pitch. Since we have successfully explored all the sights of Trier, which interested us, we want to leave tomorrow. We have to go back to the winery anyway to pay the pitch fee and then we will also take a few bottles of wine and sparkling wine with us. But for today, that's enough.
Back in the motorhome we think about how we want to spend the rest of the week. For Bonn and Essen time seems to be too short, on Sunday we have to go back to Stuttgart. Luxembourg City is only 50km away. Neither of us have been to Luxembourg yet and it seems to have a free-of-charge pitch. So that should be our next goal. On Saturday we then want to head back towards Stuttgart and try out the Saarland-Therme near Saarbrücken.
Tired of wine and food we fall into bed. It's raining now, we can't do much any more anyway.
Continue reading
Previous days